Spring Striper Mayhem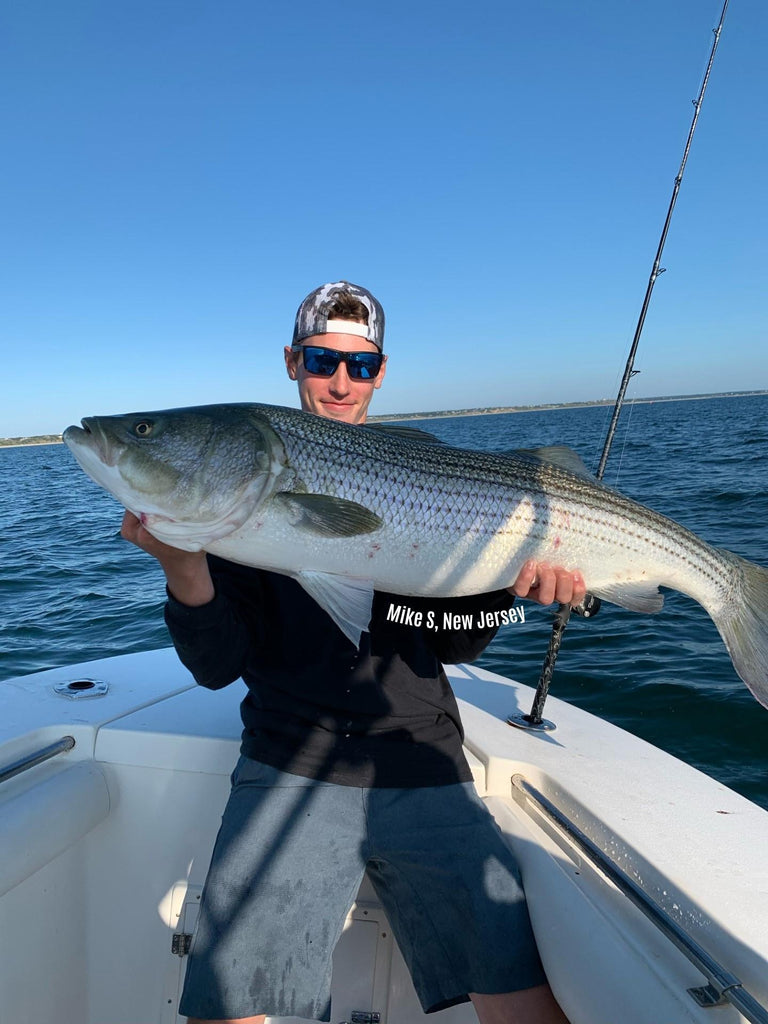 Spring Striper Mayhem
As striper scene continues on with full stride, there's still time to hit the water in hopes of catching the fish of a lifetime! Following the fall run for the record books of 2022, Spring 2023 has been loaded with tight lines and big bass. Although these bass are moving toward the quickly warming waters of the bays and rivers and are feeding aggressively, striper fishing in the spring can present a new set of challenges to overcome in order to consistently catch quality bass.
At Tackle World, we want to make sure this spring is a season to remember, so try these spring striper tips and watch your catch rate go through the roof!
Plan for success
: As many of the seasoned anglers know, the rivers and back bays of New Jersey are tidal bodies of water. That means water levels, currents, and submerged structure access are all subject to change and will fluctuate with the tide cycle and moon phases. We advise studying a tide chart of the area you plan to fish and keep a log of times, tide cycles, and locations. Just because the fish were present yesterday during the ebb tide does not mean the same will follow the next day. This is where a detailed log can come into play and will help you make game time decisions about where and when to find biting bass.

Bring a variety of lures
: Spring bass can be finicky which can make it seem difficult to zero in on what lure to use. We advise leaving home prepared with a variety of lures to ensure you can tie on what's working. One of our best sellers is the No Live Bait Needed Shads and their accompanying jig heads, both extremely popular in all sizes. Be sure to grab a few different weights to work different depths! Minnow plugs such as Daiwa SP Minnow, Rapala X-Raps, and Yo-zuri Hydro Minnows are great for casting into rips or current breaks both during day and night. If top water activity is present, you can't go wrong with a surface swimmer like the Gibbs Lures Danny Swimmer, or a walking bait like The Bone spook from Jigging World. As for which color to use, consider the time of the day in addition to what's currently hot in the market. It is well known in the striper scene that darker colored lures perform better during the night time, and lighter colored lures during the day. This is because darker colored lures show more prominent silhouettes in the dark, enticing bass to strike. So, next time you're planning on getting out on the water at night, pack a black or blurple (black purple) colored lure!
Bait & Wait
: Hands down, we see some of the biggest and most quality fish caught in spring on blood worms. Blood worms can be fished in a variety of ways, but we prefer to keep it simple and primarily use them on hi-low and fish finder rigs. Make sure you are using circle hooks that are within regulation and match your sinker weight to your needs. Don't be intimidated by them, as fishing them is easy-peasy: tread the worms onto the circle hooks, toss the bait out and wait for the bite. Just keep in mind, with these circle hooks you don't want to swing for the heavens on hooksets, but rather reel in tight to the fish with a moderate pressure to hook them.
Pay Attention to Your Surroundings:
One of the most crucial traits of a successful fisherman is the ability to observe and adapt to the environment. When fishing, pay attention to the geographical location of where you are. Features like points on shore, current breaks, submerged structure and rips can be great places for bass to stage up to ambush an unsuspecting meal. Birds working the surface are also a good indicator that game fish can be nearby and feeding on bait. Finally, don't be afraid to ask local anglers what is working and what isn't.
With these tips in mind, you should be well on your way to catching your next trophy bass. We wish you a great rest of the season, and we're only a phone call or an e-mail away if you need more tips and guidance. Tight Lines!
Written by: Alex Bari
Editor: HC