New Jigging World Rods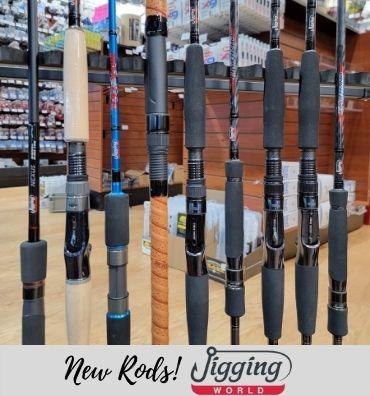 From the creators of one of the best fishing rod makers, the following additions to your favorite series from Jigging World are here!
1. Nexus 7' Spinning Heavy [JW-NX701S-H]

The Nexus series has blown up the past few years gaining the reputation as one of the most durable, sensitive, and affordable inshore rods out today. Many have asked for a heavier version of the 7' spinning rod to jig heavier weighted lures to and handle bigger fish with ease. Mind you, we have seen the 7' Spinning Medium Heavy model catch over 40" Striped Bass so can't wait to see the catches come in on this new model!
2. Night Ranger Nano Carbon 7'6" Casting Medium Heavy [JW-NR761C-MH]

The Night Ranger Nano Carbon series are hands down one of the most premium rods out in today's market at an affordable price point. Using Nano Carbon technology, these inshore rods are one of the lightest and one of the most sensitive rods out today. Don't be fooled by their feather light feel as these rods have more power than one can imagine. In the casting series, the 7'6" Casting Medium Heavy model is now here ready to take your Blackfish & other bottom fish game to a new level. 
3. Hybrid Nano Carbon Spinning & Casting

The Hybrid Nano Carbon series is best explained as a more premium version of the Nexus series. Using similar components but built on a more premium Nano Carbon blank is what really makes this series shine. Up until now, there have only been two models within the series, but after many requests, the series is now complete with other models in both casting and spinning. In Spinning, there is now 7' Heavy model and 7'3" Medium Heavy models. In Casting, there is now 7' Casting Extra Heavy and 7'6" Casting Heavy models.
4. Black Widow 120 Spinning [JW-BW-120S]

Our customers have loved the Black Widow 150 7' Spinning rod to jig for Fluke, Blackfish, Striped Bass, & pretty much every other inshore species that swim our waters. The brand new 120 7' Spinning model is perfect for throwing and jigging those lighter jigs. This rod is a perfect Albie rod as well.
5. Shadow Surf 11' Extra Heavy Spinning [JW-SH1102S-XH]

Whether you're chasing after Striped Bass, Bluefish, Albies and any other species that swims close to the beach, the Shadow Surf has a model that can handle them all. One of the first production rods that used genuine Winn Grips on the rods finally has a new model catered towards more fast moving current and deeper areas such as the Cape Cod Canal. Rated to throw up to 8oz jigs, this new model will surely effectively jig and turn the heads of big Striped Bass.